TMJ Treatment in Williamsburg, VA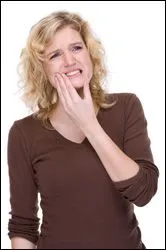 People who grind their teeth can sometimes develop a serious problem with their jaw, which left untreated, can adversely affect the teeth, gums and bone structures of the mouth.
One of the most common jaw disorders is related to a problem with the temporomandibular joint, the joint that connects your lower jaw to your skull, and allows your upper and lower jaw to open and close and facilitates chewing and speaking.
People with temporomandibular joint disorders (TMJ) often have a clicking or popping sound when opening and closing their mouths. Such disorders are often accompanied by frequent headaches, neck aches, and in some cases, tooth sensitivity.

Treatments for TMJ
Some treatments for TMJ include muscle relaxants, aspirin, biofeedback, or wearing a small plastic appliance in the mouth during sleep.
Minor cases of TMJ involve discomfort or pain in the jaw muscles. More serious conditions involve improperly aligned joints or dislocated jaws. The most extreme form of TMJ involves an arthritic condition of the jaw joint. Traumatic injuries also can cause jaw dislocation.
In these cases, jaw surgery may be required to correct the condition. Some jaw surgery can be performed arthroscopically.
Causes of TMD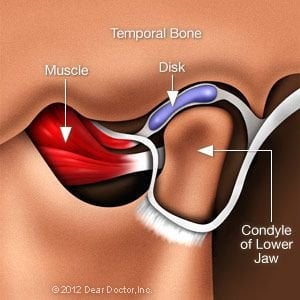 As with any other joint, the TMJ can be subject to orthopedic problems including inflammation, sore muscles, strained tendons and ligaments, and disk problems. TMD is also influenced by genes, gender (women appear to be more prone to it), and age. Physical and psychological stress can also be a factor. In some cases, jaw pain may be related to a more widespread, pain-inducing medical condition such as fibromyalgia ("fibro" – connective tissues; "myo" – muscle; "algia" – pain).



Signs and Symptoms of TMD

Clicking Sounds — Some people with TMD hear a clicking, popping or grating sound coming from the TMJ when opening or closing the mouth. This is usually caused by a shifting of the disk inside the joint. Someone standing next to you might even be able to hear it. Clicking by itself is actually not a significant symptom because one third of all people have jaw joints that click, studies show. However, if the clicking is accompanied by pain or limited jaw function — the jaw getting "stuck" in an open or closed position, for example — this would indicate TMD.
Muscle Pain — This can be felt in the cheeks (masseter muscles) and temples (temporalis muscles), where the two big pairs of jaw-closing muscles are located. If you feel soreness and stiffness upon waking up in the morning, it's often related to habits such as clenching and/or grinding the teeth at night. If you have this type of nocturnal habit, a custom-made nightguard should be very helpful in decreasing the force applied to your teeth, which will in turn allow your muscles to relax and relieve pressure on your jaw joints. Other self-care remedies are discussed below (please see Relieving the Pain).


Joint Pain — Pain that's actually coming from one or both jaw joints technically would be described as arthritis ("arth" – joint; "itis" – inflammation) of the TMJ. Radiographs (x-ray pictures) show that some people have arthritic-looking TMJs but no symptoms of pain or dysfunction; others have significant symptoms of pain and dysfunction but their joints look normal on radiographs. There is no cure for arthritis anywhere in the body, but medication can sometimes help relieve arthritic symptoms.
Do you need to alleviate TMJ symptoms, need diagnosis, or would like to learn more?
Then call Williamsburg Family Dentistry at (757) 345-5500 today
for more information or to book an appointment!