My Blog
Posts for: September, 2016
By Williamsburg Family Dentistry
September 15, 2016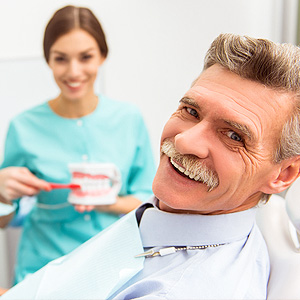 People are choosing dental implants at an increasing rate to replace missing teeth, either as an individual tooth or as a support for other restorations. But unlike other replacement options, we must surgically install the titanium post at the heart of the system directly into the jawbone.
While the term "surgery" might make you nervous, there's nothing at all to worry about. Here's what you need to know about before, during and after this relatively minor procedure.
Before. While the actual procedure is no more complicated than a tooth extraction, it ultimately depends on careful planning beforehand. Using x-ray diagnostics, we prepare a precise surgical guide to help us locate the best position to place them for a successful outcome. We'll also need to check bone volume to make sure there's an adequate amount to securely anchor the implant. If the bone is insufficient you may need bone grafting to build up the site or another replacement option.
During. The actual procedure begins, of course, with local anesthesia to numb the site — you should feel no pain and very minimal discomfort. We access the bone through the gums; often using a surgical guide for alignment, we create a small channel or hole with a sequence of drills that gradually increase the size until it can accommodate the implant. We remove the implants from their sterile packaging and install them immediately into the channel. After confirming their proper positioning with x-rays, we can close the gum tissues over it for protection during healing or attach a healing abutment that extends through the gum tissue thereby avoiding a second surgical procedure.
After. Because we disrupt relatively little of the soft tissue and bone, there's only minimal discomfort afterward easily managed with aspirin, ibuprofen or similar anti-inflammatory medication. We may also prescribe antibiotics to guard against infection while the gums heal. During the next several weeks, the titanium post, which has an affinity to bone, will become more secure as bone cells grow and adhere to it. It's also during this time that a dental lab creates your permanent crown or other restoration that matches the color and tooth shape so it will blend with your other teeth.
This process is complete when we install the final restoration onto the implant. You'll have a new smile and better function.
If you would like more information on dental implants, please contact us or schedule an appointment for a consultation. You can also learn more about this topic by reading the Dear Doctor magazine article "Dental Implant Surgery."
By Williamsburg Family Dentistry
September 02, 2016
Dental crowns are one of the most versatile and affordable dental procedures available. They give dentists the opportunity to fix both
cosmetic and general dentistry problems with one treatment, and can help to save teeth suffering from severe decay, large cracks and breaks, and significant staining and discoloration.
Dental Crowns in Williamsburg, VA
The dentists at Williamsburg Family Dentistry treat a range of dental problems, from chips and cracks, to cavities and tooth loss. In many cases, people decide to put off going to the dentist, or forgo treatment altogether, for what seem like minor problems. Although a broken tooth may not seem like a serious problem, trauma can jeopardize the nerves and overall health of a tooth. From a cosmetic standpoint, studies have shown that most people state a sense of dissatisfaction with their smile as a source of embarrassment and low self esteem, which can negatively impact their overall quality of life. Crowns (also known as caps) have been a staple of restorative dentistry for years because of their durability, and ability to replicate the look and feel of natural teeth.
When are dental crowns a good option?
Moderate to large cavities - Some forms of tooth decay are too extensive for a standard dental filling. A crown can help to save the remaining healthy portion of the tooth and save it from extraction.
Dental implants - Implants are an innovative and comprehensive method for replacing missing teeth. The implant replaces the root, and is then attached to a porcelain crown to complete the restoration.
Stains and discoloration - Some stains do not respond to surface teeth whitening products. Dental crowns can also whiten a yellow, tarnished smile.
Find a Dentist in Williamsburg, VA
Dental crowns can help to save a damaged tooth from more invasive procedures, as well as improve the overall appearance of your smile. For more information, contact Williamsburg Family Dentistry in Williamsburg, VA by calling (757) 345-5500 to schedule a consultation today.